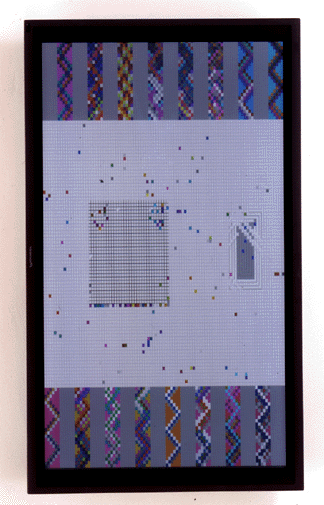 CPU v1.5, 2001
Software, Macintosh G3 PowerBook, 50-inch Gas Plasma Screen
Runs Continuously, Never Repeats
A reincarnation of my earlier CPU piece, CPU v1.5 takes full advantage of its four foot tall display. The software conceptually resembles the earlier version, however it is rewritten to exploit the increased comuting power and display size. With millions of colors added, the 'canvas' size increased, and additional parameters included, CPU v1.5 creates even more detailed patterns and greater variations. This was my first use of a gas plasma screen and my introduction to working in a considerably larger scale.
| | | |
| --- | --- | --- |
| 2006: | | All Digital, Museum of Contemporary Art, Cleveland, OH |
| 2005: | | John F. Simon, Jr., Alexandria Museum of Art, Alexandria, LA |
| 2001: | | BitStreams, Whitney Museum of American Art, New York |